Where Did the Stars and Stripes Come From?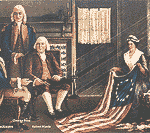 Since the establishment of the thirteen colonies flags have been designed and redesigned to represent our independence from foreign powers, our independent ideals and our national identity as a whole.
The current official U.S. flag is a 50 star flag, conceived by the need for a more practical design to accommodate new states entering the union. On April 4th, 1818, Congress established the number of stripes at seven red and six white, and provided the addition of one star for each new state. The thirteen stripes represent the original 13 colonies. The 50 star flag has been in use since July 4, 1960 when Hawaii officially joined the union.
During the Revolutionary War, the states fought under many flags. One of these flags, called the Grand Union, was flown on flagpoles over George Washington's headquarters near Boston. It was the first American flag to be officially recognized by another country.
No one knows for sure who designed the first Stars and Stripes, or who made that first flag. Soon after the flag's adoption by our new government, Congressman Francis Hopkinson claimed that he had designed it. It is also widely spread and commonly believed that Betsy Ross, a Philadelphia seamstress, made the first U.S. flag.
On June 14, 1777, to establish an official flag of the new nation, the Continental Congress passed the first Flag Act: "Resolved, that the flag of the thirteen United States be thirteen stripes alternate red and white; that the union be thirteen stars, white in a blue field, representing a new constellation." (making it significantly easier to sew on a new star and run it right back up the flagpole.)
Whoever it was that designed it, a flag with thirteen stars and thirteen stripes received its first salute from another country on February 14, 1778, when French vessels in Quiberon Bay, France, saluted John Paul Jones and his ship, "The Ranger."