Planting the U.S. Flag on the Moon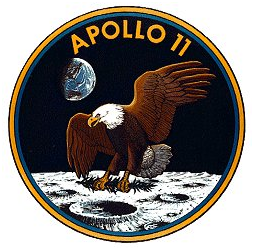 We humans attach great meaning to planting our flags in documenting our travels.  In centuries past explorers raised their flags to claim territory for their sovereigns.  More recently explorers and adventurers have posted national flags more to announce to all, "We were here first!"
The image of Columbus raising a flag as he stepped ashore in the New World has become iconic.  Arctic explorer Robert Peary had a forty-five star U.S. flag which he carried with him as he traversed the Polar Regions.  Upon reaching key sites, he cut out pieces of his flag to leave behind.  His wife would later patch the flag with white cloth before Peary's next exploration.   Edmund Hillary and Tensing Norgay carried the flags of Great Britain and Nepal in the first ascent of Mount Everest.
It was, therefore, not surprising that American astronauts carried the American flag to the moon beginning with the first moon landing on July 20th in 1969.  Announcing "the eagle has landed", astronauts Neil Armstrong and Buzz Aldrin became the first humans on the surface of the moon.  Later during the historic first moon walk the two men planted the Stars and Stripes.
In all the United States has completed six manned lunar missions, twelve American Astronauts have stood on lunar soil, and for each moon landing a ceremony took place as they posted U.S. flags to announce to the world, "We were here."  We don't know when humans will return to the moon, but when they do six American flags will still dot the lunar surface to remind them of those who came before.