New Glory for an Old Flag: Utah State Flag Day is Official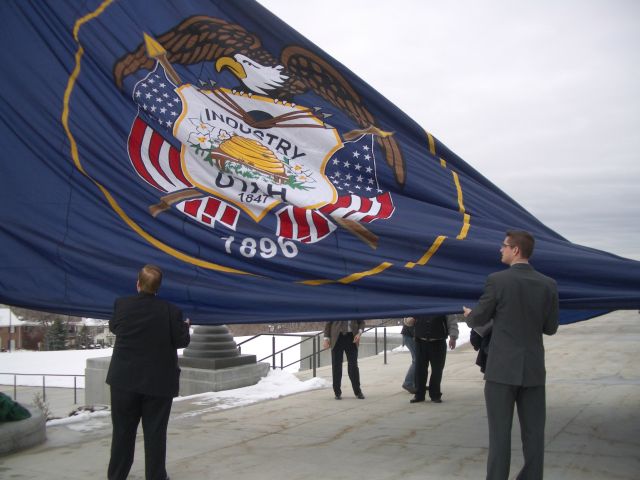 Colonial Flag Company is celebrating  the Utah State Flag's birthday in a big way.  Company seamstresses have produced a gigantic Utah State Flag which was raised today, the 9th of March, on the 80 foot flagpole in front of the Utah State Capitol by Lieutenant Governor Greg Bell.  The 20 by 30 foot flag, which weighs over 22 pounds folded, will fly all day in honor of the one hundredth anniversary of the adoption of the Utah State Flag.
The huge flag has had a big impact.  The Utah State Senate has been considering House Bill 490 to officially designate March 9th as Utah State Flag Day.  However, with the State Senate overburdened by critical legislation, it seemed likely that the session would end without the Senate taking action on H.B. 490.  Seeing Colonial's huge flag flying on the centennial anniversary day of the Utah State Flag inspired the senators to suspend the rules and pass House Bill 490.  Consequently from this year forward, March 9th is officially recognized as Utah State Flag Day.
On Thursday, March 10th the huge flag will be raised in front of Colonial Flag Company Headquarters and Showroom located at 9390 South 300 West in Sandy, Utah.
The flag, sewn entirely on site in Sandy, is a beautiful example of the flag-making art.  It is double appliquéd so that the image is perfect on both sides.  The pattern, produced by Colonial Flag's graphic artist, David Rindlisbach, honors the first color version of the Utah State Flag adopted in 1913.
Although the story of the Utah State Flag stretches back to 1903, its official history began on March 9th in 1911 when the design of the first flag became law.  While the first design was a white emblem embroidered on a blue field, the current color version was adopted in 1913.  An error made in the design of a Utah State Flag produced in 1922 has been repeated by flag-makers until this year.  Less than a month ago the Utah Legislature passed House Concurrent Resolution 2 to correct that error.  However, the Resolution allows existing flags to be used until they need to be replaced.
Consequently, at this first celebration of Utah State Flag Day, the gigantic Utah flag is one of only a relatively small number of correct Utah State Flags in existence.  The others are part of Colonial Flag Company's initial order of the correct pattern, and are available for sale at Colonial Flag Company's Showroom located at 9390 South 300 West in Sandy.
Because of Colonial Flag Company's efforts there were correct flags on display to celebrate the Centennial of the Utah State Flag, the first Utah State Flag Day.  We are proud to be a part of honoring the Utah State Flag on its centennial.