The Healing Continues in Auburn, New York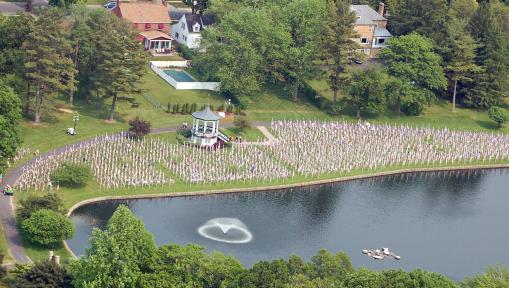 A recent article published in Auburn, New York's The Citizen reports a great story of Healing Field Success.
St. Joseph's School had planned to host only one Healing Field Flag Display.  Cheryl Foster, a parent of a St. Joseph student, had experienced the Healing Field memorial in near by Waterloo.  Deeply impressed, she suggested the school bring a Healing Field Display to the Auburn community.   The school agreed to a one time display—and with the combined effort of school and community—Auburn's 2010 Healing Field Flag Display became a reality.  The flag memorial stirred emotions in the community that exceeded all expectations. 
"We had no idea how this would affect people," Principal Kathleen Coye told The Citizen's reporter Jason Gabak.   "There was so much interest," the principal continued, "and people contacted us and wanted to be a part of it but didn't have the opportunity to do it last year, so we felt it was something we should do again."
In 2010 more than 1,250 people sponsored a flag.  The flag display brought people together and "gave people an opportunity to talk and share their stories," Coye explained.  Gold Star Mother Mary McLaughlin addressed the students at St Joseph to explain the meaning of the Healing Field tribute. She had lost her son, Sergeant Christopher McLaughlin in 2008 as a casualty of the war in Iraq.  Hearing Mrs. McLaughlin's personal story demonstrated for the students what the Healing Field display represents.
This year, the tenth anniversary of the September 11th attacks, St. Joseph School will reach out once again to the Auburn community to involve as many people as is possible.  The school's goal is not only to have students take part in the effort, but to understand its meaning.
The experience of the 2010 Healing Field display proved so successful, that St. Joseph School again leads the effort in this the tenth anniversary year.  "We thought about how much it would mean to the community and what it would do for people," concluded Principal Coye, "and it was something we definitely want to be a part of."  Over Memorial Day weekend, Healing Field flags will once more be posted at Hoopes Park in Auburn, New York.
The national Healing Field team is excited to provide the support for the Auburn Healing Field flag display memorial.  We join the community in saluting St. Joseph School.