Flags of Queen Elizabeth II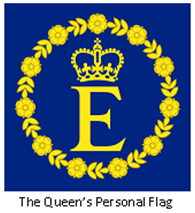 She does not have a driver's license or even a passport, but she travels without hindrance.  She does not vote or have the right to express her political views publicly, but the political head of her government visits every Tuesday to personally consult with her, receive her personal encouragement and—when she feels it is necessary—be warned.  The President of the United States as leader of the free world has only one flag to represent his office.  She has more than a dozen flags and has flown many more flags during her lifetime.  She is Queen Elizabeth II, by the grace of God Queen of the United Kingdom and her other realms.  On February 6th she celebrates 60 years as Queen.
Her first personal flag was as The Princess Elizabeth, the eldest daughter of King George VI.  It is the Royal Standard with the addition of a special emblem called a label.  It shows two Saint George Crosses and a Tudor Rose in the middle.  Had she been born a boy, that boy's label would have been a plain white one and he would likely have been known as the Prince of Wales, as is Prince Charles today.  Nevertheless, when her father died on the 6th of February in 1952, she became Queen.  Along with her father's kingdom she inherited the Royal Standard which has been her main flag now for sixty years.  There is also a Royal Standard made specifically to be displayed in Scotland.  It gives precedence to the Scottish Lion over the three English lions.  Elizabeth is also the Queen of Canada, Australia, New Zealand and more than a dozen other nations.  Many have a Royal Standard for Her Majesty to use when she visits.  In countries where no Royal Standard has been adopted, Queen Elizabeth uses a simple blue flag with a crowned initial "E" encircled by a garland of golden roses.

In addition to being Queen, she bears a couple of masculine titles.  She is the Duke of Lancaster and the Lord of the Isle of Man.  There is a flag for each.
Still, Elizabeth II does not overdo her display of flags.  She flies only one at a time to indicate her presence.  The flag she flies depends on her location.  If she visits in England or Scotland, she flies that Royal Standard.  In her overseas Dominions she flies the appropriate Royal Standard for that nation if one exists.  If there is not an appropriate Royal Standard, she displays her personal flag with her crowned initial letter "E" encircled by golden roses.   Perhaps even then she felt she had one flag too many.  The title and flag of the Lord High Admiral became vested in the Sovereign in 1964.  For his ninetieth birthday in 2011 she gave that title to her husband Prince Philip, the Duke of Edinburgh, and with the title came the flag.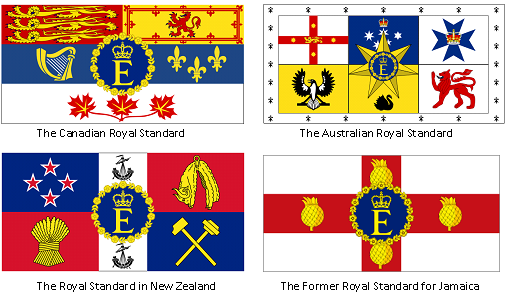 Elizabeth II has served her peoples in the United Kingdom and around the world with incredible energy and unswerving dedication.  Colonial Flag Company and the British Pantry salute Queen Elizabeth and her flags.  Long may they wave!