Continuing a Big Tradition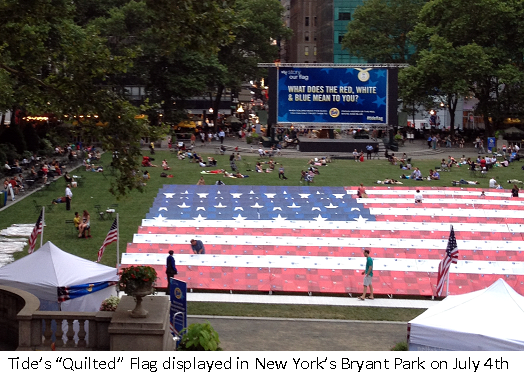 Big flags have been made in Utah since Pioneer days.  Soon after their arrival in the Great Basin, the Mormon Pioneers began making large flags.  Several were large enough to be dubbed "mammoth" flags.
One made in 1850, for example, was thirty by eighty feet in size.  Certainly a mammoth flag.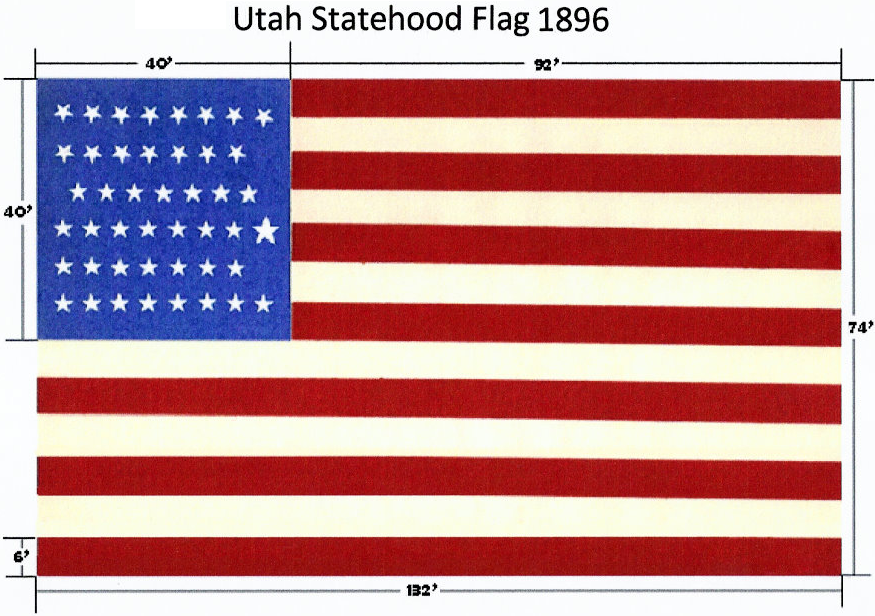 In 1896 Utahns constructed what was then the largest flag in the world.  At 74 by 132 feet, it held the title of world's largest flag until 1923 when a larger flag was made for the J. L. Hudson department store in Detroit.  This mammoth flag of 1896 was made to celebrate Utah's entry into the union as the forty-fifth state.  Too lager for a flagpole, it was suspended to cover the ceiling of the Salt Lake Tabernacle during the Statehood inauguration ceremonies when Utahns celebrated Utah's admission as a state.
Today, numerous large flags fly from flagpoles around the Wasatch front, including a U.S. flag measuring thirty by sixty feet which flies daily at Colonial Flag Company's showroom and headquarters.  Many of these large flags are made by Colonial Flag at its location in Sandy, Utah.
However, these are not the biggest flags Colonial makes.  Colonial has made flags large enough to cover football fields when displayed before sporting events.  These stadium size flags measure a whopping 150 feet wide and 300 feet in length, truly mammoth flags in the Utah tradition.  On Sunday, September 11th in 2011, fourteen scheduled NFL football games began their television coverage with the display of these stadium size flags—all made by Colonial Flag in Sandy, Utah.  A video clip showing the presentation of one of these mammoth flags can be viewed at the link: http://www.youtube.com/watch?v=AwKkSRAN0no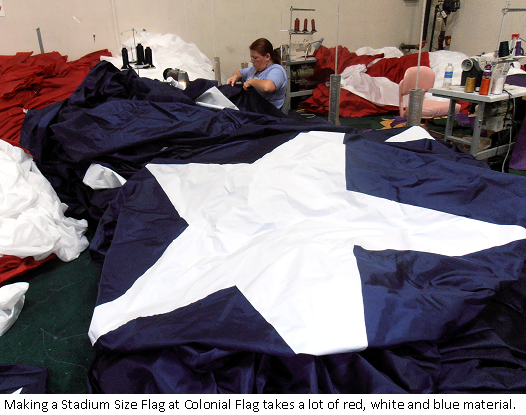 For July Fourth this year, Procter and Gamble's Tide Brand of detergent chose Colonial Flag Company to construct a huge and symbolic flag measuring 52 feet by 120 feet displayed in New York's Bryant Park within a block from Times Square.  See Tide's Facebook page at the link: http://www.facebook.com/Tide
This flag was made as a visual metaphor or artistic interpretation of the Stars and Stripes.  Constructed on long narrow frames, the image of the flag was displayed in a way that appeared much like the slats of a Venetian blind which allowed visitors to walk between frames as they viewed the flag.  While not an actual flag in the technical sense, this interpretation also made inclusion of images and text possible on the strips of cloth.   This give the long strips the appearance of being quilted to become a part of the Stars and Stripes.  New symbolism thus became possible as individual Americans became an integral part of this visual metaphor of the U.S. flag.  While the image appeared to be a flag when viewed from above, the images, stories and visitors all became part of the flag's visual image and symbolism.
As Official Keeper of the Red, White and Blue for the U.S. Olympic Committee, Tide asked visitors to its Facebook page, "What does the Red, White and Blue Mean to You?"  Pictures and answers submitted were added to the long strips of the flag's design.  Visitors to Bryant Park could themselves become part of the flag as they walked between the frames to read the stories and view the pictures sent in as submitters answered Tide's question and explained the meaning the flag's colors has for them.  This brings new and meaningful symbolism to the Star Spangled banner as described by Paul Swenson, Colonial Flag Company's President, when he observed, "The American flag is made up of 300 million stitches, one for each American.  We just need to take care of our own stitch."  The Tide Quilted Flag reminds us that we are all part of the flag, and we give meaning to what our flag represents.