Christmas: A Flag Holiday
When we consider flag holidays, we think first of Memorial Day, Flag Day or the Fourth of July.  Although Christmas Day is indeed one of the holidays listed in the U.S. Flag Code as being a day when it is especially appropriate to display the flag, we think first of pine trees, holly sprigs and mistletoe.  Old Glory does not spring to mind with thoughts of Christmas.
Nevertheless, display of the flag at Christmas time has roots that reach back at least a century.  In nineteenth century depictions of Santa Claus, he sometimes was shown wearing a costume that looks like it was made for Uncle Sam including striped pants and a starry jacket.  Images of the Jolly Old Elf with the Stars and Stripes continue into our own century with modern nutcrackers, ornaments and illustrations.  Colonial Flag is certainly no stranger to Old Saint Nick.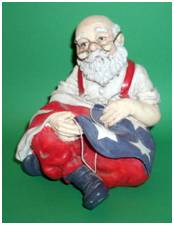 We like to say that Santa Claus shops with us.  Drop by our showroom and you just might see a sleigh in the parking lot.
Our family at Colonial Flag and the Healing Field Foundation join Santa in wishing you and your loved ones the Merriest of Christmas Celebrations. May you find joy and happiness during the Yuletide and in the coming year!