The Flag of Saint George and England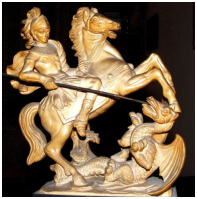 According to the tradition, Saint George slew the dragon and saved the fair princess.  He is normally shown as a knight in armor astride his charger with the tip of his lance mortally wounding the fierce dragon.
George's valiant deed freed the bound princess chained as a sacrifice to the fire-breathing fiend.  This heroism made the saint a favorite in medieval Europe.  George is, therefore, not only the patron saint of the English, but also patron for many other nations, cities, and regions.  Traveling through Europe, you are as likely to see George slaying the dragon in Bavaria as in London.

Why a white flag with a red cross?  According to legend, Saint George carried the white shield of purity and when the dragon was slain, he dipped his sword in the monster's blood and traced a red cross on his white shield.  The charge thus shown on his shield thence became his flag.
Carried as a flag into battle, Saint George's cross was also worn by English soldiers, front and back, as a mark of identification.
When in 1348 King Edward III founded the Most Noble Order of the Garter, he dedicated it to England's patron saint.  Today the oldest and most prestigious order of English chivalry, the Order of the Garter displays Saint George and his cross on the order's regalia.  A white shield with the cross of Saint George surrounded by a blue garter bearing the motto Honi· Soit· Qui ·Mal ·Y ·Pense makes up the order's coat of arms.  Why a garter?  By legend, the King Edward III was dancing with Joan of Kent, his daughter- in-law, when her garter fell to the floor.  The king gallantly retrieved it for the lady, but was offended when some of the courtiers started to laugh.  He replied with the French motto which translates roughly as "Evil to him who evil thinks."
On Saint George's Day, only the Knights and Dames of the Order need to worry about the Garter.  For others to celebrate, simply fly Saint George's flag of England.  Some Brits today frown on flying the flag as they feel it doesn't represent England's multi-cultural population.  Perhaps not, but it is pure English history.  "Evil to him who evil thinks!"