Syttende Mai
The Norwegian flag plays a central role on the celebration of Norway's great national holiday.  Sometimes called the "Constitution Day" or the "National Day," it is most often simply called "syttende mai," Norwegian for May Seventeenth.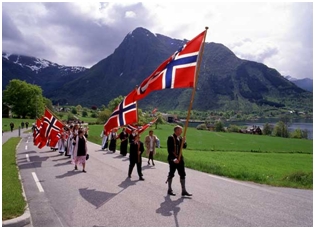 It celebrates the day in 1814 when Norway adopted its Constitution and declared its independence.   Sadly, the Norwegians were forced into an unwanted union with Sweden.  A symbol of the union appeared on their flag.  The Union device was an awkward design that combined the Swedish and Norwegian flags.  The Norwegians disliked the union emblem and said it looked like a bowl of herring salad.  They longed for the return of their "clean flag" with the union symbol removed.  They longed for their independence.  In 1905 the union of Sweden and Norway was finally dissolved.  Norwegians again had their "clean flag" without the herring salad.
To celebrate Norway and the Norwegian flag on Constitution Day, the people form huge parades all over the countryside.  The marchers each carry their national flag.  The parade is for the participants, the people who march in the parade.  It is not a parade for observers.  Parades are held in cities and towns over the length and width of Norway.  In Oslo alone, the national capital, one hundred thousand people take part in the celebration.  Many wear the national costume or the national colors of red, white and blue.  However, central to it all is Norway's flag.