Poppies and the Great War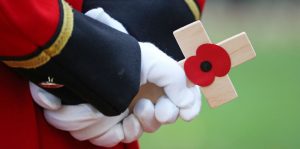 by John M. Hartvigsen,
When Queen Elizabeth II met John Riggs at a recent visit to a veterans' home, she asked the World War II veteran his age.  "Ninety-nine," he replied as the Queen responded, "Well, you've got me beat."  Indeed, Her Majesty is a mere ninety-three years of age, and yet, both she & Riggs were born after the First World War's Armistice.  They experienced World War II first-hand, but the Great War of World War I was fought before their births.  Although none in Britain are still living who remember the Armistice that ended what was thought to be "the war to end all wars," the impact of World War I still weighs heavily upon the United Kingdom and the closely allied nations who fought alongside for King and Country.   Over 876,000 military of the British Empire died during the conflict, and that changed life dramatically for Britain and for their allies.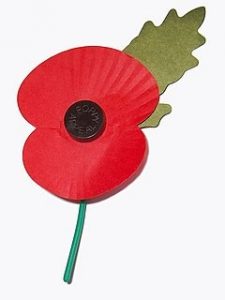 Battlegrounds, scared by combat, burst forth with expansive carpets of red poppies after battles ended.  So, the simple red poppy became the symbol of wartime sacrifice.  While the red poppy is not as well known in the United States today, its significance in the United Kingdom and the Commonwealth remains strong.  The British and Canadians wear poppies each November during the first eleven days.  In Australia and New Zealand, they along with the British wear red poppies on Anzac (Australia and New Zealand Army Corp) Day each 25th of April to commemorate terrible losses at the Battle of Gallipoli in 1916.
Other wars have followed the Great War, and now Remembrance Sunday, the second Sunday in November, commemorates the losses of all these conflicts with a ceremony held at London's Cenotaph on Whitehall, the nation's war memorial.  At the Cenotaph, Members of the Royal Family and others lay wreaths of red poppies as the Queen watches.  The ceremony includes two minutes of silence at the 11th hour to remember that World War I ended at the eleventh hour of the eleventh day of the eleventh month in 1918.
In the United States, Armistice Day has become Veterans Day to remember the service and sacrifice of all military and veterans, but the day like the red poppy has origins remembering battlegrounds that burst forth with red blooms when the guns fell silent.