Build It and They Will Come. Part I Design It
Ok, I know the saying is a bit trite and worn around the edges, but it still plays well in Hollywood.  Remember 'Field of Dreams' where Kevin Costner builds a baseball field on his corn farm in the middle of Kansas…?  So what's the connection to your big monument project?  Will they really come to see your monument or memorial once you get it built?
Designing your monument and planning the construction of your communities 'once in a lifetime' monument or memorial project can be a daunting undertaking.  And it only gets more daunting once you actually roll up your sleeves and commence with the heavy lifting.  So, my objective in today's message is to walk you through the first step that can produce a successful outcome for your monument project, and maybe even get you some big kudo's along the way.  This issue will focus on Part I of  "Build It – and They Will Come", the Design.  My next issue will focus on Part II, Construction…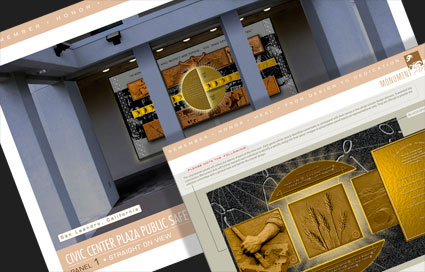 First, design it.
Kevin Costner didn't have to worry much about this one.  All baseball diamonds and fields are the same.  People don't come to a ball game to view the design of the field, they come to view the action on the field.  But your monument project is much different.  People will come to your monument precisely because of the design.  It will be the design that keeps them coming back time and again.  I can't overstate the importance of design enough.
All else flows from the design of your monument or memorial.  Lets say that again with feeling; All else flows from the design of your monument or memorial!  If the design stinks, if it is 'boring', or if it looks just like other monuments, your visitors will sharply dwindle over the years and you will be left with something that simply collects dust instead of inspiring future generations.  And when you consider the cost of the project, which is always more than anyone had planned for, you want to make sure your visitors are motivated to return time and again, thus helping to justify the initial investment.
Design by committee is a receipt for disaster!  Because the design issue is key to the overall success of your project, please do not leave this critical step to amateurs – and please do not assume that a room full of amateurs can somehow get inspired to come up with a design for the ages.  It never happens that way.  What 'design by committee' will get you is a bad design that everyone agrees on, sort of.
You know you and your committee are serious about your monument project.  Perhaps it is honoring first responders, those police, firefighters and others who put their lives on the line every day to make your community safe.  Or perhaps you are honoring your veterans and the service they provide to defend the virtues of preserving freedom.  Or perhaps you are choosing to honor a community leader or other inspirational figure who has contributed much to the social fabric of your city…  Whatever the purpose of your monument or memorial, you know you are serious about seeing that the end result is the very best it can be, and that it is timeless in both design and meaning.
To accomplish your objectives, you must retain a professional design firm.  Period.  They must be skilled in the many nuances of this line of work.  They must strive for excellence both in design and fabrication.  They must be experienced.  How can you know if you're dealing with a professional?
Professionals will spend a lot of time up front with you and your committee asking many questions.  Professionals want to get inside of your thoughts and purpose for the project.  Their questions will force you and the committee to really dig deep into the why's of your project.  If they don't ask questions, send them packing.
I wish for you that your next monument project is a pleasant experience along the way, and has a successful outcome once you're finished.
Onward & Upward…