Annual 9-11 Healing Field® Flag Display and Dedication Ceremony
Colonial Flag is excited to sponsor the 11th Annual Healing Field® Flag Display
in tribute to those men, women and children who were murdered in the terrorist attacks on September 11th , 2001 as well as all first responders who risk their lives in protecting others and all those serving in our armed forces fighting to protect our freedom.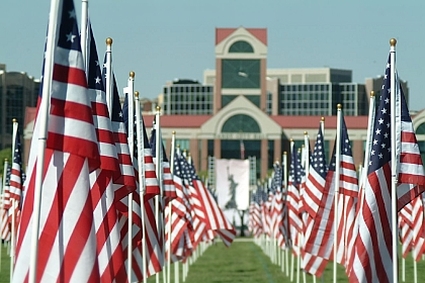 Local volunteers will post hundreds of three by five foot U.S. flags atop eight foot poles on the south side of Sandy City Hall, which is located at 10000 Centennial Parkway.  On Sunday September 9th, the Hope Rising – To Lift a Nation monument will be dedicated in a special ceremony at 6:00 PM. This statue recreates the famous photograph taken of 3 NYC firemen raising the flag amidst the rubble at Ground Zero after the terrorist attacks.  The program will included a special ceremony honoring those who have died most recently who were serving as First Responders or in the Military; Salt Lake Fire Chief – Jim Judd, Utah Highway Patrol Trooper – Aaron Beesley, and Corporal Joshua Vielstich – USMC.  The Healing Field ® Display and Ceremony are free to the public.
Hundreds of US Flags will be posted in a Patriotic Tribute Honoring the victims of the terrorist attacks, Front line Responders, and our Military. The entire community is invited to unite for this moving event.
Where: 10000 Centennial Parkway in Sandy, Utah (south side of Sandy City Hall)
When:  September 8-12
What:  Flag set up on Friday September 7 at 6:00 PM.(volunteers welcome)
 Sunday September 9 at 6:00 PM Dedication of Hope Rising Monument and Ceremony honoring our Fallen Heroes.
 Wednesday September 12 at 6:00 PM take down of flags.
September 8-12 Field open to public.
The Healing Field ® is a non-profit program presented and administered by the Colonial Flag Foundation and assisted by local community volunteers.  These flag display memorials enable visitors to participate in a healing experience while honoring those who protect our freedom and safety in the military and First Responders.  Each field of flags is set up by volunteers while area businesses and individuals sponsor individual flags.
Sponsored flags can be dedicated to honor family members, friends, special heroes in our lives. Flags displayed in the Sandy Healing Field® may be sponsored for $35 each online (www.healingfield.org/utah12) . The proceeds perpetuate the annual Utah Healing Field® flag display.  At the close of the event, sponsored flags may be retained to be proudly displayed at homes and businesses throughout our community.
Those desiring to volunteer in posting the flags or who wish to sponsor a flag may contact Bekah Hintze at (801) 256-3639.  Donations and corporate sponsorships are being accepted online.  Updates and schedule are also available online.  Visit our website at www.healingfield.org/utah12  for more information.
Please join us and visit this Healing Field® flag display in a magnificent opportunity to unite as a community in remembering and honoring Utah's heroes.