10 Years of Healing Field Flag Displays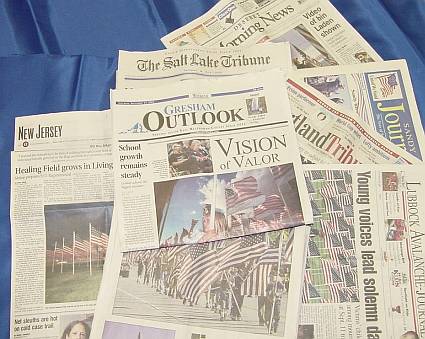 This year marks the tenth anniversary of the Terrorists Attacks of September Eleventh, and the Colonial Flag Foundation is busy coordinating efforts to commemorate the tragic event with Healing Field Flag Displays across the nation.
It all began as a simple way to visualize and comprehend the sheer enormity of human loss that occurred in the terrorist attacks of September 11, 2001. But, as hundreds of volunteers gathered on the first anniversary of the attack to help, it soon became evident that something much more was emerging. The Sandy City 2002 Healing Field, the very first display, became a personal gesture of support, a tangible expression of mourning, and a very real healing experience.
In September 2011, Sandy City will host the tenth consecutive Healing Field on the three and one half acres of lawn located immediately south of the Sandy City Hall. Volunteers will come together to post three thousand flags in honor of those who died at New York's World Trade Center, the Pentagon and the field near Shanksville in rural Pennsylvania.
In coordinating the Sandy Healing Field, the Colonial Flag Foundation developed a turnkey program that has made possible the creation of other Healing Field Displays. Today, hundreds of Healing Field and Field of Honor displays are organized throughout the country for a variety of reasons, including tributes of honor, celebration, civic pride and education. Through these programs, communities come together, awareness is generated and funds are raised in support of worthy causes; but most importantly, individual hearts are healed.